My mom used to work at YFU. Youth For Understanding. It is a high school student exchange program. We hosted several exchange students over the years. At times we would have two, because someone would be leaving their host family for whatever reason. My mom sort of ran it, so we got the "problem" exchange students - the ones who didn't like their families or the ones that didn't get placed yet. (We only had one leave us, our first one) My family could get kind of rowdy, so that didn't mesh well with a couple of them.
Mai (pronounced as "My") was one of our Exchange students that we sort of got along with. She was very quite and reserved from what I remember. I think she spent alot of time in her room. I do think she stayed the whole year. Right mom?? Anyway - Digging through some old boxes of mine I found these letters she sent before she came.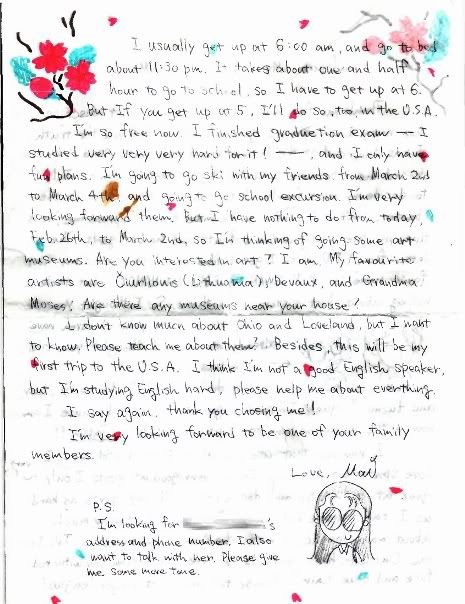 I tried to make it so you can read them okay, but the paper was very thinn and the scanner I used sucks! haha. But anyway I thought the letters were fun.
We hosted Students from all over. Venezuela, Brazil, two from Japan, Germany, one from Sweden...and other places I don't remember! So many of them stick out in my mind... they were like brothers and sisters! We keep in touch with one somewhat often, another one here and there randomly... but we have lost contact with a lot of them, which is kind of sad :-(