So I was running late for work, and when I got into my car I got a huge whff of ketchup. I looked to my passenger side floor, see a fast-foodbag and think to myself, "Well that's what you get for leaving it in there Erika. Way to go!"
And then I turned on my head lights and saw...
This.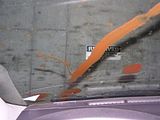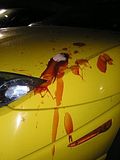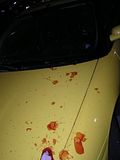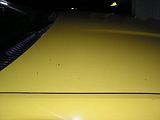 This was done by a BOTTLE not packets. There for this (in my opinion) required some type of premeditation. Also, my car faces a wall. They had to walk around to the front of my car to do all this $hit. Though I don't know but I would figure there is some kind of significance to it being on the driver side too.
I think it was a resident who doesn't like me (only because they don't KNOW me). I tried looking back at the tapes but it was useless.
Fock.
Who does this $hit? For real. UGH.
Also. It took two carwashes to get it all off.
Pudding.